Nasirun
(b. 1965 in Cilacap, Central Java, Indonesia)

Nasirun studied painting at the Indonesia Institute of the Arts Yogyakarta (Institut Seni Indonesia). He currently lives and works in Yogyakarta. Magically and almost manically creative, Nasirun moves freely between painting, carving, sculpture, drawing, installation, gardening, collecting and restoring as he invents a colourful mythological world of his own creation--with himself as the questing figure at its centre. The conceptual and formal materials of Nasirun's exuberant creations are drawn from the spiritual and cultural realms that resonate most strongly with him. His work is infused with themes reflecting his deep belief in Muslim spirituality; his identification with the moral narratives and visual symbolism of the wayang kulit puppet theatre traditions which are integral traditions within Indonesia; and his passion for the creative spirit of the people. In his own words, Nasirun 'uses the brush to pray.'
Nasirun's technical mastery of brushwork and impasto, his brilliant colour palette, and his beautifully wrought detail give his works a sophistication that acts as a wonderful counterpoint to their wild inventiveness. In his monumental oil painting Mudah- Mudahan Allah Setuju Enyong Modern (2010), which translates as 'I Hope Allah Doesn't Mind If I'm Modern', Nasirun uses his own silhouette to create a portrait of a winged angel (wearing a Muslim hat) painted in a field of pure white colour with a delicately textured ground. The figure is set against a dark background punctuated with a shower of tiny, fantastical trees and plants in jewel-like colours. When asked about the significance of the imagery, Nasirun said that the 'the angel represents the human's fundamentally sacred nature' but our behaviour determines 'whether our heart is black or red.' And he warns that as 'guardians of nature' we are failing in our mission: the shower of plants, he said, can either be read as 'meteoric rain' or as the 'plants, floating.' Nasirun's carousel horses were salvaged from an old junkshop and repainted (or 're-magicked' ) into life by the artist, while his brilliantly painted wooden panels use as their central motifs another kind of found object, the royal kraton stamp of approval from the old metal boxes used for consumer products in the past. For Nasirun, the sacred and the joyful can be found everywhere, if one only has the eyes to see.


Has been with Sin Sin Fine Art since 2009.


EXHIBITION HISTORY • Full CV in PDF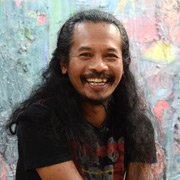 photo by ©Sin Sin Man