S. TEDDY D.
(b. 1970 in Padang, West Sumatra, Indonesia;
d. 2016 in Yogyakarta, Central Java, Indonesia)

S. Teddy Darmawan, known as S. Teddy D. , studied painting at the Indonesia Institute of the Arts (Institut Seni Indonesia) in Yogyakarta and has been a fixture on the Yogyakarta arts scene ever since. S. Teddy D.' s explosive energy finds expression in a range of media, from paintings, drawings, installations, sculptures to performance art. In his energetic, passionate and often humorously ironical work, S. Teddy also creates a kind of mythological world: a mythology of the everyday populated by images of his family, his friends, the family dog, his neighbourhood, military symbols (his father was an army officer), things that he sees on the street or images that accost him on TV, and, of course his own self-portrait, standing alone or inserted into different contexts. He even creates literal theatres for the dramas of the everyday: small stage-like constructions in which objects symbolizing isolated moments in his life are theatrically arranged.
Like Bob Sick Yuditha and EddiE haRA, S. Teddy is drawn to counter-cultural emblems, and graffiti and tattooing are just as important methods of self-expression for him as are painting and sculpting. Recently S. Teddy has been fascinated with the spontaneity and irrevocability of painting with Chinese ink-and-brush on paper, and his latest series of ink-on-paper works shown here reveals the masterful way the artist has infused the spontaneous strokes with a sense of his own vulnerable humanity.


Has been with Sin Sin Fine Art since 2008.


EXHIBITION HISTORY • Full CV in PDF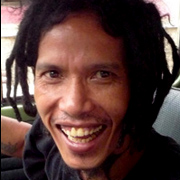 photo ©Sin Sin Man